"TO ALL THE FEET IN THE WORLD"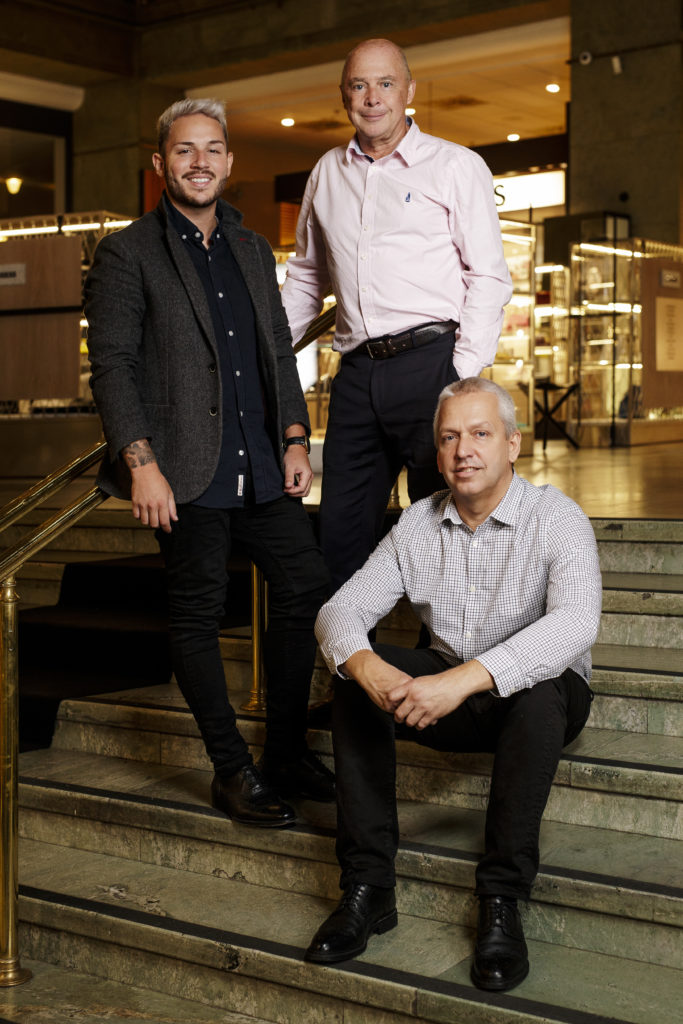 After founder Michael Bergman read the book "Makers – The new industrial revolution" by Chris Andersen which described how modern 3D-technology revolutionized design and production he knew that this could be applied for the shoe-industry.
It all started as a crowdfunding campaign where 20 pilot customers could get bespoke shoes by scanning one's feet with a 3D scanner and later combining this technology with handcraftsmanship in Porto, Portugal.
Both the campaign and the shoes was a success and a company was founded in 2015 stepping away from mass-production and the one-size-fit-all approach.
After the campaign our customers loved the shoes we made but when ran into another problem. Bespoke shoes don't go hand in hand with the mass production most shoe factories request.
Since we had several hundreds of scans we found technology where our entire last library is matched to scanned feet as a SaaS and a AI-system learning feet giving suggestions for changes etc. Based on this we created our own lasts in full and half sizes and every size in five widths and brought this to well renowned producer of handcrafted shoes in Spain and our new approach to production model was accepted.
With this new approach we have a higher accuracy and efficiency in fitting compared to making every pair of last with a fraction of the cost making bespoke shoes. We call this 3D MTO which is something completely different on the market. We already have 80% returning customers which we are extremely proud of.
We have no middlemen between us and your shoes which is why we can afford to keep a high quality for a fair amount of price. We also step away from large stocks and minimize over-production to the fullest.
So with state of the art technology combined with a third generation shoemaker we feel extremely confident to make your next pair of shoes tailor-made for you.
Furthermore, we will shortly open up for ordering shoes online once scanned by us at Nordiska Kompaniet at NK Skomakeri.
Customized Shoes, from Fitting to Style Customer comes to our showroom in Stockholm to scan both feet, our 3D scanner software matches then the scanned feet with our own developed last library to recommend a chosen last (shoe model) with the most optimal fitting. Next step is choosing style, skin, color, lining, sole, etc. That's it… really!
Manufacturing high quality dress shoes, starting from the English style, we move along with the tendencies of the moment, always staying faithful to our genre – classical & fashionable shoes.The shoes are made in Europe in an area with more than two centuries of tradition and prestige in this fine art. Where they're handcrafted in box calf leather from renowned Tanneries all over the world, from Italy, France to Portugal & Spain.
Goodyear welted shoe, with a mix of the finest handcraft and the latest technology.
Uppers cut by hand.
Leather soles slowly tanned in chestnut during three months for improved water resistance and durability.
Soles stitching with option closed and open channel. Broken Bird shoes are made using natural materials in an environmentally friendly and sustainable way, and can last for decades with proper care.
Our 3d scanning process takes less than 30 seconds. Right away, our software will highlight our models with the most optimal fit for the customer, which they will be able to try and choose from – the chosen last/model will be then assigned to the customer's profile for future orders.
Then, through our online customization form, they will be able to customize their shoes and place an order/several orders at the store, or anywhere else, at any time, by logging in with their provided User Name and Password.
Finally, a placed order is sent to our factory in Spain, where a customized pair of shoes is sent into production with an average delivery time of 8 weeks.